These are all from our honeymoon trip from June 15 to June 24. We went to the Abacos Islands, which are part of the northern Bahamas. The Abacos are very different from the Bahamas that people think of when they think about Nassau. The Abacos are fairly remote, and must be reached by boat. There are no large resorts or hotels to be found, just a collection of houses.
As you can see from the pictures, we were the only people on any of the beaches we stopped at. The Abacos advertising said that it would be hard to find foot-prints on any of the beaches, they were right!
The pictures were all taken with a high-end Canon Digital Camera. However, they have been reduced greatly to put up on the web. The actual pictures turned out great, and should easily be enlarged with photo-quality up to 8"x10"
We will put in more details of the trip later.
Please enjoy the photos.
This is a satellite view of the "Hub of Abaco". The island in the center at the bottom is Lubbers Quarters Cay where we stayed. It was about half way up the right side. The island on the left is the Big Island of Abaco. It has the airport and the largest city of about 2,000. Other than flying in and out, we stayed on the out islands, of which some are pictured to the right. This picture was obviously taken from another website.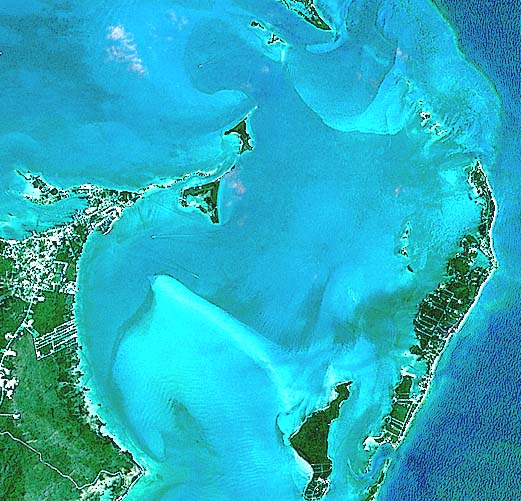 The right to copy / print / save / reproduce these pictures in any way is the strictly prohibited. The pictures are the sole property of Alison and Glenn Wakefield.